SDSU Alert Platform and SDSU Safe App
SDSU Alert Platform
The SDSU Alert Platform consists of two key components:
Mass Alert Notification System
The Mass Alert Notification System provides SDSU community members with accurate and timely information in the form of emergency notifications during urgent situations.
Occasionally, when necessary, the system is also used to send important information in the form of outreach messages. These are messages not tied to any emergency situation, but still provide timely information relevant to the safety and overall well-being of our campus community.
Whether emergency or outreach related, the system is used to issue notifications to the campus community through a variety of channels: SMS, email, voice calls and push notifications.
SDSU faculty, staff and students are automatically enrolled, while parents, family members and community members can sign-up to receive notifications via SDSU's dedicated subscriber portal. If you are a student, follow the instructions to make sure your contact information is up to date.
The system can take over designated screens to display messages and instructions during emergencies. The Initial rollout of this capability includes all public-facing computers in locations such as the Love Library and digital signage at Conrad Prebys Aztec Student Union.
SDSU Safe App
The free phone-based app (for Apple and Android) promotes personal safety both on and off campus. SDSU Safe uses the latest mobile and GPS technologies to enhance the SDSU Alert Application with features that include instant push notifications during campus emergencies as well as instant access to a range of university safety resources and reporting tools.
All members of the SDSU and SDSU Imperial Valley community are encouraged to download and use the mobile app, and to turn on push notifications on their devices and within the app to ensure that they receive notifications when sent by the university.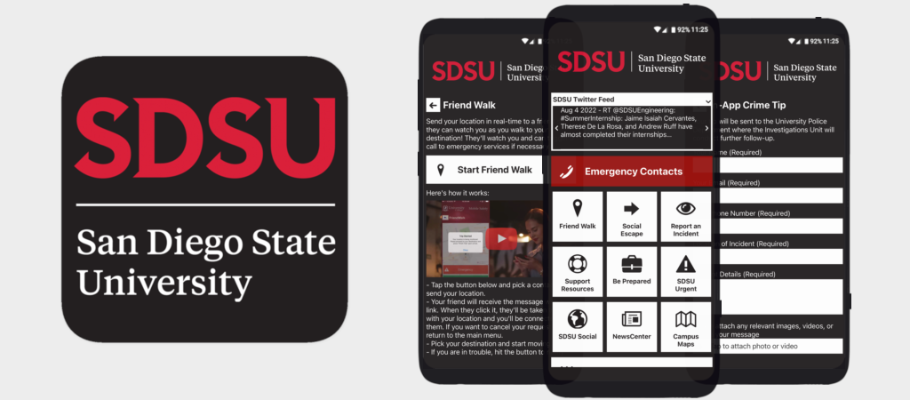 Download the SDSU Safe App
Enabling Push Notifications
To receive push notifications from the university via the app, make sure you have 1) notifications enabled for the app on your device and 2) notifications enabled within the app. In the app, click "About/Preferences", then click "Notification Settings", then make sure notifications are "Enabled".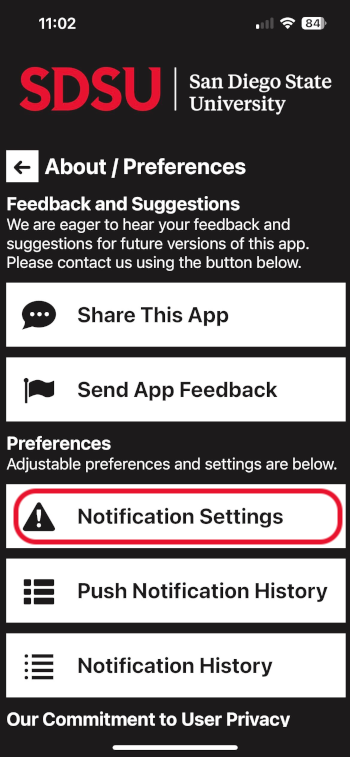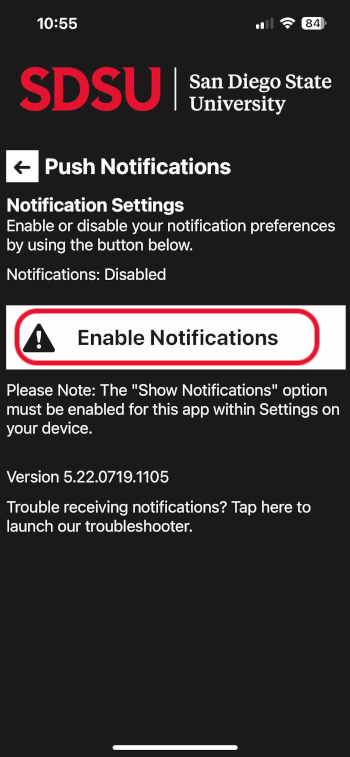 SDSU Safe App Features
Safety Notifications: Users can receive notifications and instructions from SDSU when the university is communicating about emergencies on or near campus. Generally, notifications are sent only when there is an imminent threat to people or infrastructure, to include the sending of Clery notices or a change in university operations.

Friend Walk: Users can share their physical location with an individual through email or SMS, allowing that individual to track their progress to their destination after accepting the Friend Walk.

Emergency Help: If you are in crisis on campus, the feature provides contact information for the San Diego State University Police Department.

Reporting Tools: Whether an emergency, a crime tip or a different type of incident, the mobile app provides mechanisms to report information to the university in real time.

SDSU Urgent: Directly connects to the university's urgent.sdsu.edu page, which is the centralized source of information about active emergency situations. The site will contain information, updates and other resources to keep the campus informed of incidents, responses and safety measures.

Social Escape: This feature allows you to get out of a difficult or potentially dangerous social situation by calling you and giving you an excuse to leave.

I am OK: Allows safe app users to let friends know that they are "Ok" during an emergency situation, and provide their current location on a google map through an auto generated email.

SDSU Safe Ride: This is an on-demand service to be introduced in Fall 2023, that will provide students at SDSU in San Diego rides to and from specified pick-up/drop-off locations around the campus.

SDSU Work Safe: This feature will promote the safety of individuals who may work alone during evenings or late nights on campus. Offered on a limited basis in pilot-mode during fall 2023, this feature will be rolled out campus- wide later in 2023.

Maps and Directions: Access to the SDSU and SDSU Imperial Valley maps are provided.
SDSU Introduces mobile safety app